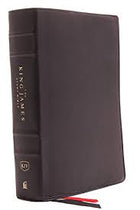 Description
Thomas Nelson
MOST ANTICIPATED IN FALL 2021 by TIME, The Washington Post, Bustle, Goodreads, and Debutiful • An Indie Next Pick • A Publishers
The full text of the classic King James Version with robust study notes, vibrant full-color images, and other study tools to help grow deeply in your faith.
Standing apart from all other KJV study Bibles on the market, the King James Study Bible, Full Color Edition is the only Bible featuring extensive commentary, doctrinal notes, archaeological insights, and time-tested study aids developed exclusively for the King James Version. Now available with stunning full-color designs, Holy Land images, classic works of art, charts, and maps, the King James Study Bible, Full Color Edition guides you through the vivid beauty and authority of God's Word as you grow in your biblical knowledge.
For over a quarter of a century, Thomas Nelson has earned the trust of millions with the best-selling King James Study Bible, offering the standard of conservative KJV scholarship. Our tradition and commitment to KJV study continues with the release of the King James Study Bible, Full Color Edition.
Features include:
Beautiful full-color throughout
Book introductions and outlines

 

provide a concise overview of the background and historical context of the book about to be read
5,700 authoritative and study notes

 

for a better understanding of the passage being read
Center-column references

 

with translation notes allow you to find related passages quickly and easily
Hundreds of color maps and charts

 

show a visual representation of locations and themes in the Bible
Over 100 archaeological notes

 

draw attention to biblical places and related archeological discoveries
Over 100 personality profiles

 

give overviews of key men and women in the Bible
Over 200 notes on Christian doctrines

 

for a systematic study of themes in God's Word
Easy-to-navigate topical indexes word-study concordance

 

for looking up a word's occurrences throughout the Bible
Easy-to-read

 

large 10-pt print size
Marketplace Buzz Book for Fall/Winter 2021 • Longlisted for the 2021 Center for Fiction First Novel Prize

In this thought-provoking and entertaining debut novel about of a multicultural family, a dying billionaire matriarch leaks news of her death early so she can examine her legacy—a decision that horrifies her children and inadvertently exposes secrets she has spent a lifetime keeping: "Full of music, magnetism, and familial obligation" (Emma Straub, author of All Adults Here).
Dava Shastri, one of the world's wealthiest women, has always lived with her sterling reputation in mind. A brain cancer diagnosis at the age of seventy, however, changes everything, and Dava decides to take her death—like all matters of her life—into her own hands.

Summoning her four adult children to her private island, she discloses shocking news: in addition to having a terminal illness, she has arranged for the news of her death to break early, so she can read her obituaries.

As someone who dedicated her life to the arts and the empowerment of women, Dava expects to read articles lauding her philanthropic work. Instead, her "death" reveals two devastating secrets, truths she thought she had buried forever.

And now the whole world knows, including her children.

In the time she has left, Dava must come to terms with the decisions that have led to this moment—and make peace with those closest to her before it's too late. Compassionately written and chock-full of humor and heart, this powerful novel examines public versus private legacy, the complexities of love, and the never-ending joys—and frustrations—of family.